We fit many double and triple glazing windows, roof lights and lanterns. We also install UPVc and aluminum doors. Fitting windows is a 5 step process.
Surveying – Ensuring the measurements of the new window are correct.
Removing framework – This includes scoring the edges of silicone holding the frame in place. Next, de-beading and then de-glazing (removal of glass). We then remove any screws holding the frame in place and pull the framework out leaving us a space for the new window.
Fitting the new frame – The existing space is cleaned down and tidied. Any spacers are put where needs be. The frame is fitted into the hole and new holes are drilled into the frame and screw are fixed through. Once the frame is securely fixed we move to the next step.
Glazing – Any spacers are placed where the window will sit and the window is glazed and beaded.
Sealing – Any gaps between the framework and opening are sealed and trimmed.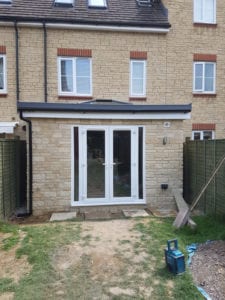 Job description We were asked to build an extension to the existing property, while allowing a lot of natural light to enter the area. The
Read More »